Montana West Purse Washed Buckle Flap Leather Dual-sided Handbag For Women
Gender: Female
Product Description:
Concealed Carry Purse: Both sides have concealed pockets.

High-quality Washed Leather: Durable, soft and anti-scratch.
Large capacity: Both sides have concealed pockets. Allows you to put handles on shoulder.
Buckle magnetic flap makes this handbag more glamorous.
Removable crossbody strap   
Accented with golden stud
Two zippered pocket on the back to conceal the handgun
Holster not included
Product Details:
Size: 15.5' (L) x 4' (W) x 10'' (H)
Reasons for you to choose this purse:
Light weight

Water resistance

Multi function

Chic apparel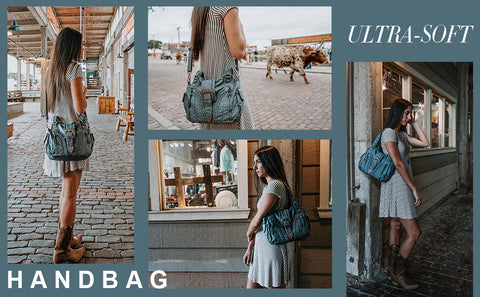 Multi ways to carry
Large Capacity
Large handbag size : 16"X 4.5"X 14"(L x W x H), allows you to put handles on shoulder. Large enough for daily use, fits  iPad, cell phone, wallet, umbrella, glasses case, cosmetic...
Waterproof
This washed bag Compromised from leather to give you an affordable concealed protection option, this purse is long lasting and durable. The will withstand everyday use and has an easy to clean exterior, just wipe clean with a rag and warm water.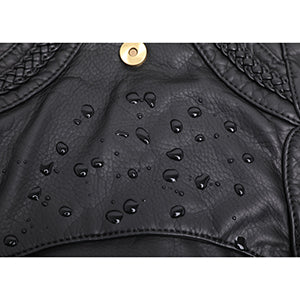 Side Pocket
Both sides of the tote exist a mini pocket, convenient for little stuff, such as cards, pens, tissue etc. easy to put in and get them out.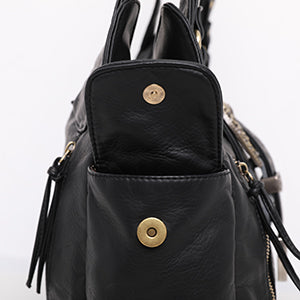 MONTANA WEST BAG FOR WOMEN
FAST SHIPPING
Shipping time: 2-3 business days to ship. (Shipping might be delayed on weekends and holidays)
SATISFACTION GUARANTEE

At Montana-West, we hope every one of our customers to be completely happy with their purchase. If for any reason you are not satisfied with your purchase, simply return it to us by mail within 30 days for an exchange or refund in your original form of payment.
We guarantee the processing of non-artificial quality problems within three months.
TEXAS ORIGINATED BRAND
Montana West Collections combines the best of traditional Western elements with contemporary design. We are a label that combines amazing quality and unique design with unbeatable price tags. 
It is A little bigger then what I thought it would be its nice but just not me.
Washed Buckle Flap Dual-sided Handbag
The handbag looks very nice. Lots of room on both sides. However, the buckle is big, heavy and got in my way. I cut the buckle flap off with a seam ripper. I like it much better without the buckle flap.
Pretty but
Love the color and stitching. I miss the small pocket on back where I kept my phone. Not sure that I like the 2 zippers for main part of bag. Everything seems to get lost at the bottom. Not sure what would help, maybe a slightly smaller bag that wasn't so soft.
I love it!
This bag is so cute! It's the perfect size. Tons of pockets. And so so cute. I got it in a couple colors and I love them all.
Conceal/Carry handbag
This is a beautiful, quality made bag! It's the perfect size, and I love how the conceal/carry part has a zipper on both sides, for easy access. So glad I made this purchase!